Our Doctor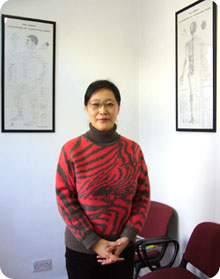 Dr. Junhua Wang received the award of a Bachelor degree in Traditional Chinese Medicine from the renowned TCM University of Beijing, China in 1985. Having gone through the 5 years formal academic training in TCM, she was employed as a registered TCM doctor for over 10 years by the Dong Zhi Men Hospital at the same University before she joined a medical centre in the USA as a certified TCM doctor / acupuncturist.
Dr. Wang has distinguished herself as one of the leading physicians and accumulated over 25 years experience in treating illness with acupuncture and Chinese herbs.
Holding the "TCM doctor" work permit title issued by Education and Employment Department, she entered the UK on 2001. Having started a successful TCM practice in Aberdeen, Dr. Wang moved onto other parts of the United Kingdom and gained further acceptance and recognition from the patients she successfully treated.
She settled in Aberdeen and established Bodytune, the first professional TCM clinic back in October, 2002 and continues the TCM practice at Rosemount place. She is highly regarded by her patients and some Western medical doctors.
© Bodytune 2011